Pink Opal Stamped Necklace
Embrace the delicate beauty of our handmade Pink Opal stone necklace, expertly crafted in sterling silver with leaf stamped details. This enchanting piece combines the softness of Pink Opal with the elegance of sterling silver, creating a necklace that exudes charm and grace.
The Pink Opal stone, known for its soothing pink hues, evokes a sense of serenity and love. Each stone is carefully placed in the sterling silver setting, adorned with leaf stamped details that add a touch of nature-inspired artistry. The combination of the Pink Opal and the sterling silver creates a harmonious balance between femininity and sophistication.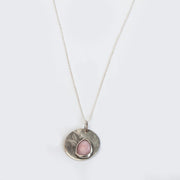 Pink Opal Stamped Necklace